Strongest Kratom Strains You can find online
Kratom is still quite a controversial herb which is why finding the most potent strains and good vendors are quite the hassle. This dilemma is mainly because Kratom and its effects on the human body are not as well-researched as those of other herbs and drugs.
Some schools of thought say it is a harmless drug with a few, low-grade psychogenic effects. Others say that Kratom is another type of substance, and it has the same debilitating effects on the mind and body that other substances do. There is some truth to both these thoughts.
While Kratom does have the same effect on the nervous system that other substances do, it is nowhere close to being as harmful. That is the reason why it is still legal in most parts of the United States of America.
However, there are only a few states and cities in which Kratom is regulated and undergoes rigorous quality control. Which is why finding the best, most reliable vendors and figuring out the potent kratom strains is not easy.
Here is where we step in. We are going to discuss some of the strongest Kratom strains available online and tell you where to get your hands on them as well.
1. Premium Green Malay Kratom Capsules – Purkratom
Green Vein Strain of Kratom
Harvested from Malaysia
Premium Green Malay is the most potent green vein strain of Kratom
PurKratom sells a premium version of Green Malay Kratom Capsules. Its effects are above par. PurKratom sells this strain in a capsule form for easy intake.
The effects of Premium Green Malay last for a long time, and therefore it is best for a long-term effect. The Green Malay also consists of a large number of alkaloids including Mitragynine. Green Malay is also one of the most potent green strains of Kratom you can find anywhere.
Green Malay has several effects on the mind and body. These include increased alertness, increased energy output, inducing relaxation effects. The best part about this strain is that it is not overwhelming at all. The effects take over the body evenly, which also makes it an excellent strain for first-time users of Kratom.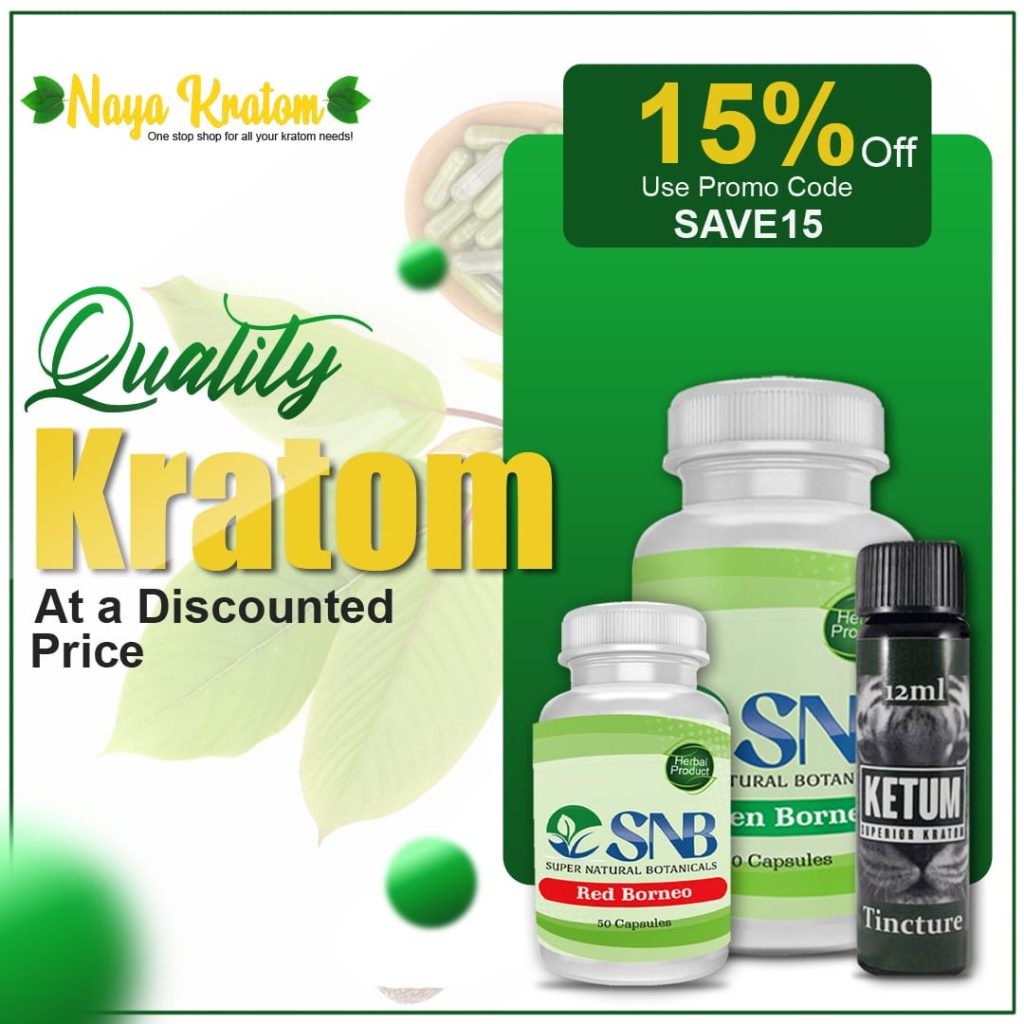 Other than that, if you take a large dose, you can also experience euphoria with Green Malay. However, this feeling is very short-lived.
PurKratom is an extremely reliable supplier of Kratom. Thousands of people in the US trust this website to deliver the finest quality of Kratom, and they have some very unique strains you can find anywhere.
2. Elephant White Vein Kratom – Authentic Kratom
It is so-called because the leaf of this strain of Kratom is as large and as droopy as the ear of an Elephant
It is a white vein strain
High alertness and low sedative effects
It is dried and then crushed into a powder form so that people can take it with ease.
The effects of this potent strain of Kratom depend on the dose you take. They become evident around 20 minutes after you have taken the dose and stay for around 20 to 30 minutes.
The effects of Elephant White Vein Kratom include improved focus and alertness, relief from stress and depression, a slight feeling of Euphoria, which increases with a larger dose, and nervousness relief.
Perhaps one of the defining points of this strain of Kratom is that it's sedative effects are very low. You will remain alert after taking a dose of Elephant White Vein Kratom.
Elephant White Vein Kratom is readily available at Authentic Kratom. Authentic Kratom is a very trustworthy supplier of Kratom and has satisfied Kratom-based needs for thousands of Americans. You can expect prompt delivery from them along with complete security regarding your order and your details.
3. Ultra Enhanced Indo – Supernatural Botanicals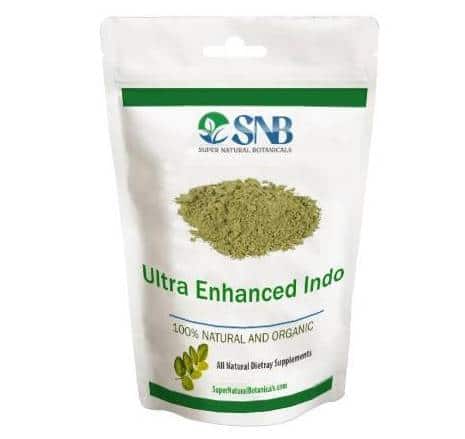 It is a combination of red, white, and green kratom strains
Very high alkaloid content
Enhanced Mitragyna form
Higher in price because of high potency
Ultra Enhanced Indo is a rather expensive strain of Kratom. There are a lot of Ultra Enhanced strains of Kratom. Essentially when you take a regular strain and increase its concentration, some fold, it becomes ultra enhanced. Naturally, these strains are much more expensive than their regular counterparts.
Ultra-Enhanced Indo, on the other hand, is an exceptional strain even among the other Ultra-Enhanced ones. It is highly concentrated and can provide all the effects that all the strains of Kratom have to offer.
When you make Ultra-Enhance Indo, you increase the concentration of the resin and add extra alkaloids to it to maximize its potency.
Another unique attribute of Ultra-Enhanced Indo is that it is not a red, green, or white strain. It is unique in its existence.
You can experience a wide range of effects using this strain of Kratom, including an energy boost, a cognitive boost, euphoria, relaxation, uplifting of the mood, and sedation. Since a lot of these effects are essentially contradictory, you can alter the effect that Ultra Enhanced Indo will have on your mind and body by changing the dose.
At low doses, you will experience an increase in your energy levels, an uplifted mood, and alertness. At higher doses, sedation and euphoria will take over, essentially making you high. Naturally, with Ultra Enhanced Indo, you have to be very careful about your dosage. Even so, it is completely worth the extra few bucks.
4. Red Relief Kratom – Tropic Health Club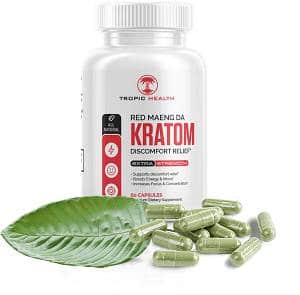 Red Vein Strain of Kratom
Also known as Red Maeng Da
Most closely related to opioid in terms of effects
Red Maeng Da or Red Relief Kratom is considered to be the strongest strain of Kratom there is. Its main advantage is stress relief. Kratom is generally well-known for its opioid-like discomfort relief properties, and Red Relief is the best strain for this purpose.
Other than that, Red Relief Kratom is also used for energy management and uplifting the mood. You can use it for stress relief, inducing positive thoughts, and a steady release of energy throughout the day.
Lastly, Red Maeng Da is also excellent for curing insomnia. It helps in sedating you and making you sleepy.
On Tropical Health Club you can find Red Maeng Da as Red Relief Kratom. It comes in capsule form with different potencies to make it easier for you to take in.
Tropical Health is an excellent vendor of Kratom products. They have a wide variety of Kratom strains, and you can easily find your fix there. They also frequently offer discounts and promo codes, so the Kratom you find is also very affordable.
5. Tropic Health Green Energy – Tropic Health Club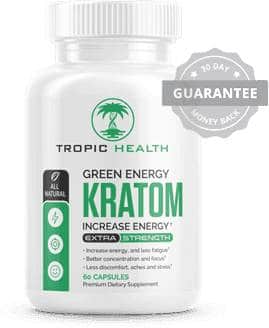 Green Vein Strain of Kratom
Excellent for releasing energy and improving motivation
Can cause euphoria in high doses
If you want a burst of motivation and energy from your Kratom, you must try Green Energy from Tropical Health. It is a widely popular belief that Green Energy Kratom can easily replace your morning coffee. Why is that?
Because this strain of Kratom will uplift your mood, make you motivated, increase alertness, all the while steadily releasing energy for you to get through the day. And you can get all of this while avoiding the jitters that you get from a potent caffeine hit.
Less popular effects of Green Energy Kratom include nervousness relief and euphoria if you take it in high doses.
Green Energy is a rather mild strain of Kratom, unlike Red Maeng Da and White Vein strains. It has little to no sedative effects, so you need not worry about falling asleep during work! It is a wonderful strongest kratom strain for beginners and experienced users alike.
On Tropical Health Club you can get Green Energy in the form of capsules. The capsules contain a finely powdered form of the Kratom strain which calls for easy intake. Tropical Health is a very reliable supplier of Green Energy Kratom, and you can expect nothing short of the best quality from them.
6. Red Dragon – Shop Ketum Store
So called because of the powder's reddish hue
Best for increasing focus and productivity
Also has analgesic effects
Red Dragon is a must-have strain of Kratom for modern-day lifestyles. It is best known for its stress relief properties which come without making you lose focus of the task at hand.
The world we live in is full of stress since a person's worth is measured by their productivity. And this is why many people cannot afford to stop being productive.
Naturally, this builds up a lot of stress in the concerned individuals. What Red Dragon does is that it relieves this stress effectively while improving focus and steadily releasing the much-needed energy in the body.
Red Dragon also has sedative effects in higher doses, so make sure you take a low dose if you are at work or trying to get through a tedious task. It also has analgesic effects with which it can relieve muscle stress, discomfort related to arthritis, and migraines. Again, stress relief also comes from higher doses of Red Dragon Kratom.
Ketum is one of the best vendors of Red Dragon Kratom. They sell the strain in powder form so you can take it in the form of a tea or add it to your food and smoothies. They are very reliable, and you can trust them to deliver Red Dragon safely at your doorstep.
7. Red Bali – Shop Ketum Store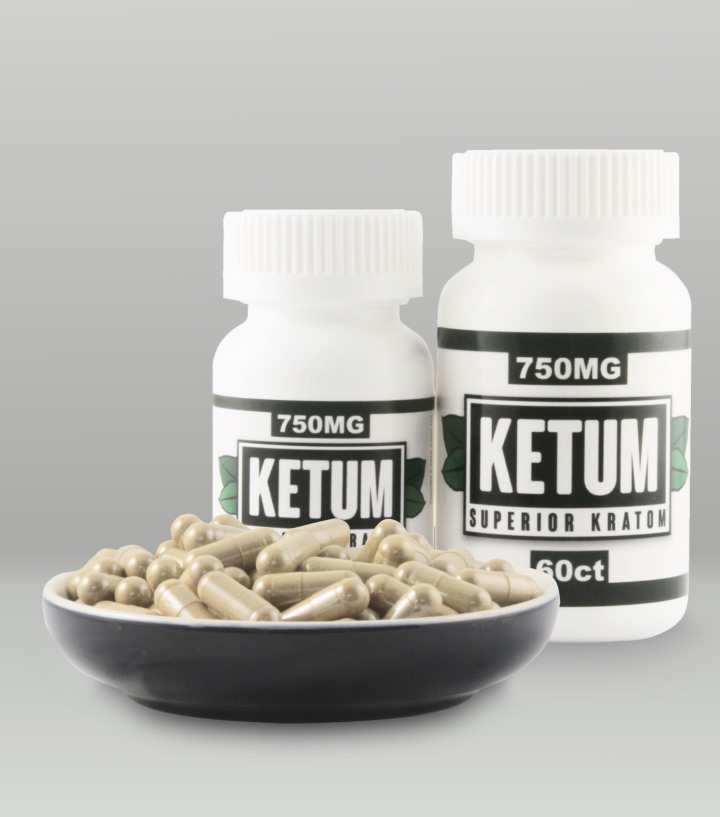 Red Vein Strain of Kratom
Best for beginners
Also, very closely mimics the effects of opioids
Red Bali Kratom is another red vein strain of Kratom. Naturally, this means that it has potent analgesic effects. Red Bali is one of the most sought-after strains by beginners because its effects are mild and nuanced, which make it easy for beginners who are trying to incorporate Kratom in their lifestyle.
Of course, the most potent effect of Red Bali Kratom is that it offers nervousness relief. Red Bali works in almost the same way that opiates do to relieve discomfort and the higher your dose, the more powerful its effect will be.
Along with nervousness relief, Red Bali also has sedative effects. It can effectively help you relax after a long day at work. Simultaneously, this strain of Kratom will also have a positive effect on your mood. It will induce positive thoughts and make you happy and relieve nervousness and depression as well. It can also help with insomnia by making you sleep peacefully at night, thanks to its sedative effects.
An interesting thing about Red Bali Kratom is that it is also used for opiate withdrawal since it mimics the effects of opiates so closely, which is why some medical professionals recommend it for people with opiate withdrawal symptoms.
You can find Red Bali in a finely powdered form from Shop Ketum. They have a wonderful selection of Kratom products, and Red Bali is one of their best strains.
8. Green Vein Borneo Kratom – Buykratom.us
Green vein Strain of Kratom
Very rare and unique which makes it expensive
Found in Borneo Rainforests
Green Vein Borneo is a unique strain of Kratom, and it has a wide spectrum of effects on the mind and the body, depending on your dosage. It is a green strain of Kratom, which means its effects are more along the lines of energy release and inducing motivation.
Green Vein Borneo increases the body's metabolic rate along which subsequently helps with energy release. Along with that, it also helps in stimulating the mind, making you more focused and alert while working or even doing daily chores.
Green Vein Borneo also has a variety of analgesic effects which include nervousness relief in muscles, joints, and even bones, i.e., arthritis. It is also excellent for the digestive system since it allows for the rapid absorption of nutrients in the body.
The effects of this strain of Kratom are more pronounced when you take it on an empty stomach. The effects also vary with the dosage.
You can easily buy Green Vein Borneo from Kratora or buykratom.us. They stock this strain of Kratom in a finely powdered form so you can take it as a tea or add it to your shakes and smoothies. Katara is a trusted supplier of Kratom, and they have some highly unusual and rare strains of Kratom amongst all the ones we have seen anywhere else.